Spirit Wind. A Sedona Spiritual Quest.
Having recently graduated from the Muscular Therapy Institute in Cambridge, MA as a massage therapist, my life plan should have been moving along as predicted. A recent grad, a new career, my own practice (Mill City Bodyworkers) in Lowell, etc., etc.. Had I not had some eye opening experiences while going through school, that would have been the plan. As many friends have recently told me "all things happen for a reason" and as you'll read, some for unknown reasons.
Life decided to change my path again! The Masters in the game of Spirituality have all been saying; your life plan, your path, the road you're on, your destiny... yada, yada, yada. Having lived it the past 44 years I finally realized that there may be something to it!
I joined the AMTA (American Massage Therapy Association) while a student at MTI. This helped to guide my professional direction once I graduated. Having had delays with licensing in Lowell, I decided that I would volunteer some time on the Law and Legislation Committee for the Massachusetts Chapter of my association. This is where my plan would change again. I was asked if I would like to attend the National Conference in Phoenix, Arizona as a representative and delegate for the Massachusetts Chapter of the AMTA. Not being one to jump on opportunities, I told them "my bags are packed"...smile.
I asked if they would mind if I went down early to get in some sightseeing and they said, "no, not at all.
We left Boston with temperatures in the 80's only to get into Phoenix during the end of one of the hottest summers on record. It was 110 degrees on arrival. Having spent two days in Phoenix I decided that I wanted to get cooler and more Spiritual. So it was off to beautiful Sedona!
About 120 miles North, 12 degrees cooler and 4,500 feet higher, I was finally there. Driving up Highway 179 into the Village of Oak Creek was like Dorothy's arrival in Oz. The beautiful red rock vistas of Sedona are just incredible.
The Sedona region was sculpted out of the landscape by erosion for over 350 million years. Native American cliff dwellers inhabited the area about 1,400 years ago due to the mild climate, the vegetation and the precious waterways. Their apparently sudden disappearance is a topic for debate by historians.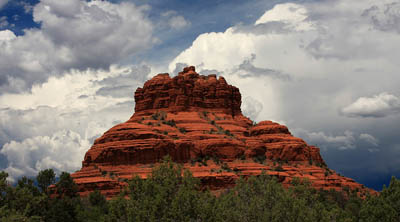 Bell Rock. © Mike Koopsen
My spiritual quest to Sedona was due to the fact that some of the world's energy vortexes are located here. These vortexes are subtle energy centers where spiritual and psychic powers are enhanced. To say I was a little curious was an understatement. My hotel room window afforded me an unobstructed panorama of one of these energy vortexes known as Bell Rock. That would be my first hike on my quest.
About half way up Bell Rock I got "stung" by a cactus. I now believe porcupines evolved from cactus because 5 "spines" indoctrinated me to the southwestern plant life. It wasn't the sting that hurt, it was the removal and blood loss that was tough to take. It was my Native American introduction to bloodletting. I settled on meditating at an outcropping about half the way up the rock. My first experiential taste of the energy vortex was what I've called my spirit wind. With beautiful blue skies, sunshine and a setting moon this very subtle wind would flow upon my every thought. At first I thought little of it, yet the more I tuned into it I realized I wasn't alone. I felt at peace and nurtured. This was why I was drawn here. Getting back to my car, starting it up, my lights and windshield wipers started on their own...too weird!
Exploring The Village of Sedona
Having come down from my first vortex tour I decided to check out the Village of Sedona. The salesperson, at the first gift shop that I was drawn to visit picked up on my Boston accent. She said how she had a friend that stayed with her for 4-5 months and that she was from Haverhill, MA. I explained that I was born in Haverhill. I know, I know just a coincidence you may be saying but it only gets better. We spoke at length about directions to other vortex sites and the best places to experience the energy fields.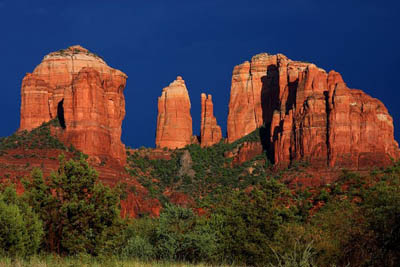 Cathedral Rock. © Mike Koopsen
I was off to Cathedral Rock and its energy vortex. I started up this steep climb with three others; two guys, a girl and me (the massage guy), sounds like a TV show! I quickly made my way up to my spot on this vista. I made a rock alter, did some meditating and then proceeded up even higher on this rock face. Getting to my private place, I smudged the area to cleanse it. Again I felt my spirit wind in an otherwise calm setting. About a half hour later a girl appeared. Victoria proceeded to explain how she up and left Virginia and is on her journey. She was taking a Jin Shin Do course here in AZ, traveling to San Francisco and then coming back to finish the program in another month. She also told me how she lived in my city, Lowell while she worked for a local hospital. She too, then was on her way!
Preparing to leave the rock, I was taking rock/sky pictures when an eagle appeared. I had watched it circling and when I was ready to leave, it too soared down through the valley. Exiting the trailhead, I knelt in the dry creek bed to pick some Sedona stones, when suddenly my gaze was caught by a three sided dreamcatcher hung from a pine bough. Who left it? Why? Was this another's special place? Was it placed there for me or for me to share?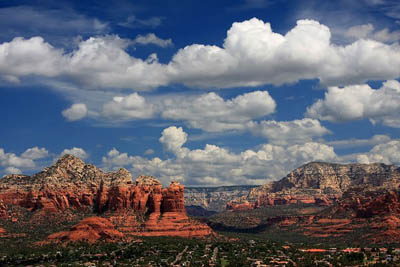 View From Airport Mesa. © Mike Koopsen
My following day was just as special. I went to two more vortex sites. The Airport Vortex, where upon hiking to "the saddle between the hills" I experienced heart palpitations that dissipated upon feeling that spirit wind again. The only way I can describe this feeling, is a profound sense of well being and peace, a true grounding. I did some more stone picking and then was off to my last site, Boynton Canyon.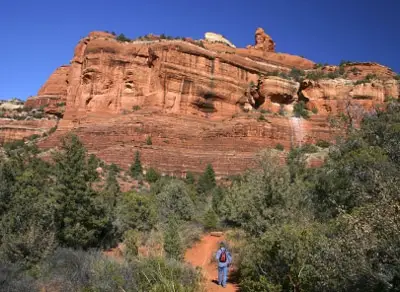 Boynton Canyon Trail in Sedona
Boynton Canyon was the most desolate location, located at the entrance to Enchantment Resort. I made my way up the trail to the 30 foot high knoll where the energy and spirit wind were extremely powerful. I smudged the area, built a little stone alter and meditated. Preparing to leave this beautiful and entrancing area, I noticed two women that were hiking around the rock outcropping. They would have had to pass me to get to the point that they were at on the hill. However, they didn't. No sooner did I see them, they were gone! I waited to see if they would reappear, to no avail! I could only ask myself if did I really see them. Like at Cathedral Rock, I was taking rock/sky pictures when suddenly one, then two, then a third hawk appeared in my viewfinder. Only this time, no sooner had they appeared. they too, were gone without a trace.
To say that there were some profound experiences over those two days would be an understatement!
Having gone back to Phoenix and my Conference I spent the next 5 days reflecting upon my experience's of Sedona, Arizona.
I feel that I am open to accepting the powers of the universe. However, the most unsettling part of the 9 day trip was when I reached into my suitcase and touched the bag of "Sedona vortex stones" and to my amazement the bag that held the Bell Rock stones was warm to the touch! I didn't believe it until two others in my group confirmed to me that they too felt the warmth.
Something very special and powerful happened in Sedona that made me more of a believer in the spirituality of the universe.
~George J. Marcelonis
Other Spiritual & Vortex Articles
---
Attractions In The Sedona Area