Out of Africa Wildlife Animal Park
Have you ever wished you could roam with the lions of Africa, stroll across the Serengeti with camels and ostriches, try and outrun a leopard or watch tigers playfully splashing with their friends in a natural pool? While many people dream of these exciting adventures, few actually get to experience nature in such a wild and up close way. If you are one of those adventurous souls who wants to brave the wilds of Africa but just isn't quite ready to swim with the tigers, Out of Africa Wildlife Park is just the place for you!
Located a short 30 minutes from the heart of Sedona, and only 90 minutes from metropolitan Phoenix, Out of Africa Wildlife Park in Camp Verde puts you a heartbeat away from the excitement and thrills of a real African Safari in the Serengeti. Home to over 400 naturally wild animals, including 40 big cats such as lions, tigers and leopards, the park also is a replicated natural habitat for rhinoceros, bears, hyenas, wolves, giraffes, zebras and more. Taking advantage of the natural desert landscape, reptile homes are carved into the side of the dirt cliffs and there is an aviary with over 100 different types of birds.
Touring the Serengeti
Out of Africa Wildlife Park is part nature preserve, part educational museum and completely outdoor wildlife fun! Visitors can take a guided trolley tour of the Preserve, capturing the lions, tigers and other predators in their natural habitat, or cruise the heart of Africa from the safety of a safari vehicle led by expert guides who bring you up close and personal with giraffes, zebras and ostriches.
For the truly brave, the Great Snake Show lets you have hands on experience with pythons, boa constrictors and anacondas, and bring home photo proof that you were at home with the slithering giants. Watch the park caretakers feed the big cats during the Predator Feed, or Feed a Tiger one on one. To round out your day, don't miss the Tiger Splash, a fun filled demonstration of playful swimming pool. One low price brings you all this entertainment.
Take Home Memories
Aren't sure what to buy the person who has everything? How about a hand painted ostrich egg? Visit the Wildlife Gift Shop for all your Out of Africa souvenirs and one of a kind wildlife gifts. If you are looking for even greater safari adventure, why not book a behind the scenes VIP Tour. You will spend 3 hours with a personal nature guide, receive lunch and VIP seating at the Tiger Splash show. Check with the ticket office for current pricing and certain restrictions.
Getting to Out of Africa
From Sedona, take Highway 89A southwest approximately 12 miles to Cottonwood AZ. Turn left on Highway 260 in Cottonwood, traveling 10 miles to Verde Valley Justice Center Road. Follow signs to the Park entrance.
More Information
3505 West Highway 260
Camp Verde AZ 86322
928.567.2840
Out of Africa Wildlife Park Map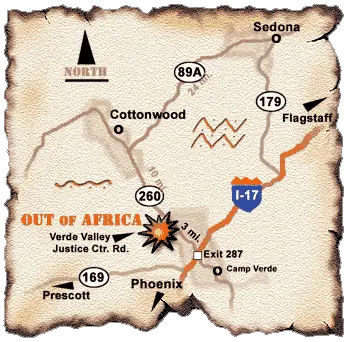 Related Articles and Information
Yelp Reviews of Out of Africa Wildlife Park
---
Attractions In The Sedona Area