Montezuma Castle National Monument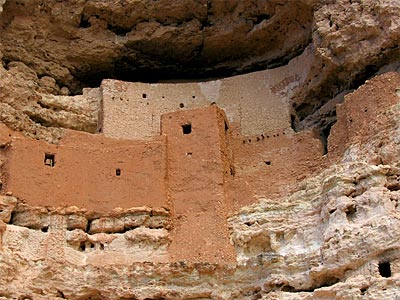 Join over 1 million visitors that experience the historic Indian ruins of Montezuma Castle about 5 miles north of Camp Verde near Sedona Arizona. It's not really a castle, but preserved cliff dwellings carved into the sandstone cliffs high above Beaver Creek. Montezuma was never there. Early settlers erroneously connected the Aztec emperor to these ruins but he wasn't born until after the ruins were abandoned.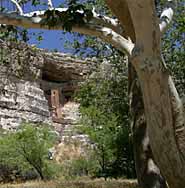 The five story, 20 room cliff dwelling stands like a high-rise ancient apartment building standing guard over the valley below. It was built by the Sinaqua Indian Tribe which means "without water" about 700 years ago in the early 1300s. For reasons no one is sure, the Sinaqua abandoned this habitat in the 1400's. Perhaps they over-extended agricultural pressure on the land below the cliffs or could have migrated to other lands due to a lengthy drought. Some believe they were eliminated through conflict with the Yavapai Indians who still exist today. Survivors were likely absorbed into other native tribes to the north.
The prehistoric Hohokam Indians inhabited the valley hundreds of years before the Sinaquas arrived and built irrigation systems for farming that provided equal value to the Sinaquas who also farmed the fertile land. There is also evidence they mined salt in the area.
The Sinaqua were no doubt daring builders having scaled the high cliffs to carve-out a recessed area into the limestone walls to erect these strongly built cliff dwellings. They used ladders to climb up to the "castle" and as they reached each level, the ladders were pulled up until the dwelling was reached. This made it difficult for enemy tribes to penetrate the natural defense of straight vertical barriers.
Artifacts confirmed the Sinaqua were fine artisans and many relics including stone tools, metates used for grinding corn, bone needles and ornaments of shell and gemstone are on display at the Montezuma Visitors Center which is open everyday of the year including holidays.
The National Monument features a level paved trail of 1/3 mile long. Exhibits along the trail describe the cultural and natural history of the site. A diorama/audio program depicts the interior of the cliff dwellings. Rangers are available for your questions and special programs are presented on occasion. Leashed pets are permitted on the self-guided trail. The trail is wheel-chair accessible.
There are no camping facilities at Montezuma Castles but there are campgrounds and RV parks in the surrounding area. A small picnic area is located in the park. Hotels are available in Camp Verde and nearby Sedona Arizona.
Operating Hours at Montezuma Castle
Open everyday including holidays.
Summer Hours: 8 a.m. – 6 p.m. (May 30-Labor Day)
Winter Hours: 8 a.m. – 5 p.m.
A modest entry fee is required. Under 16 admitted free.
Directions To Montezuma Castle.
From Flagstaff and Phoenix. Follow Interstate 17 North from Phoenix or South from Flagstaff AZ to Exit 289. Drive East approximately 1/2 mile and turn left on Montezuma Castle Road. The Castle is about 5 miles north of Camp Verde, Arizona. It is about a 90 minute drive north of Phoenix and about 45 minutes south of Flagstaff AZ.
From Sedona. The Castle is located about 26 miles Southeast of Sedona, Arizona. Take Highway 170 South to Interstate 17. Go South on I 17 to Exit 289. Drive East approximately 1/2 mile and turn left on Montezuma Castle Road.
Map To Montezuma Castle.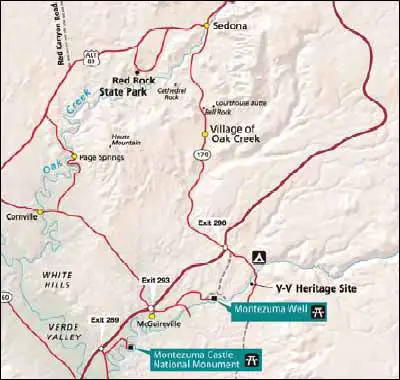 ---
Attractions In The Sedona Area