Grand Canyon Railway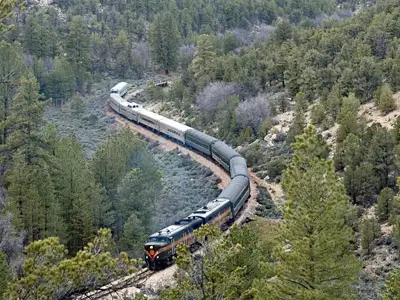 Train on the Way Grand Canyon
Imagine riding the rails north through winding canyons, bound for the South Rim of the Grand Canyon to explore, shop, sightsee or simply marvel at the natural wonder of it all. Imagine riding in vintage rail cars, along the same section of track, pulled by restored locomotives that once pulled the likes of Theodore Roosevelt, John Muir, Clark Gable and Bill Gates. If sharing center stage with history is your idea of a great vacation, then taking a trip along the Grand Canyon Railway is just the ticket!
Prospectors and Presidents
The Grand Canyon Railway first pulled out of Williams, Arizona bound for the Canyon in 1901. For nearly 70 years the Railway carried prospectors looking for gold and silver, farmers and cowboys who lived and worked along the route, supplies to the blossoming outpost at Grand Canyon Village, and of course visitors to the place that President Teddy Roosevelt exclaimed "every American should see." The Railway was first a partnership between the Grand Canyon Railroad Company and the Atchison, Topeka and Santa Fe Railroad. The Santa Fe brought expansive development to the Canyon, hiring their famous Fred Harvey Company to manage hotels and restaurants while additional lodging and gift shops sprouted up around the South Rim's magnificent vistas and scenic overlooks.
The Railway Today
Today the Grand Canyon Railway operates on restored track and services historic depots at both Williams and at the Canyon. Once considered a remnant of a bygone era many thought was lost forever when the Railway stopped running in 1968, today's Grand Canyon Railway is as vibrant and vital to Grand Canyon tourism as it was in 1901. Over 200,000 visitors ride this historic route each year, enjoying first class comfort and a unique perspective during their journey through time.
Combine your next vacation to the Grand Canyon with a Rail Package that includes your trip to the Canyon from Williams, hotel lodging in select Grand Canyon hotels, including the restored and expanded luxury Grand Canyon Railway Hotel, and a Wild West experience that will transport you through time as you make your way to your final destination.
Prefer A Personal Guided Tour of the Canyon?
As an alternative, consider a professional guided tour of the Grand Canyon South Rim in the comfort of a Mercedes-built touring van. Silver Spur Tours offers an all day VIP Loop Tour of the Grand Canyon that includes stops at Grand Canyon Village and the popular view points along Desert View Scenic Drive. Climb the Watch Tower and enjoy the visit to the Cameron Trading Post on the Navajo Indian Reservation.
Directions to the Grand Canyon Railway
You can board the Grand Canyon Railway in Williams, Arizona. Williams is located along Interstate 40 about 35 miles west of Flagstaff, Arizona. Exit the Interstate at Exit 163 and travel south for one-half mile, where you can find the Train Depot on the right.
More Information
---
Visit The Spectacular Grand Canyon