Cottonwood Arizona
Cottonwood AZ. When you think of a vacation to sunny Arizona, Cottonwood probably isn't the first destination that pops into your mind. Despite its small-size and relatively unknown nature, the Verde Valley town is actually one of the most intriguing travel locations in the entire state. It retains a certain Western charm while offering an impressive display of restaurants and shops. In addition, its location is beyond picturesque. Surrounded by jagged mountains and beautiful buttes and mesas, Cottonwood is the epitome of the nature lover's vacation.
Cottonwood, Arizona got its start like many small western towns did, as a small collection of houses, with half a dozen families in total, working the land and living a farming style of life. At first, this collection of houses didn't even have a name, but around the later part of the 1870s, the name Cottonwood was adopted as a nod to the cottonwood trees growing along the nearby Verde River.
Everyday life remained slow in Cottonwood until the onset of World War I when crops, such as hay and grain, were in high demand. Settlers began trickling in at an increased rate and by March 1917, according to most records, the town was booming. Small shops and saloons began popping up along the main strip and Cottonwood began attracting a lawless sort of bunch. Bootlegging was big business and the town was soon known as the place with the best bootlegged liquor for miles around. So many people traveled to Cottonwood for booze and other wares that it soon became known as "The Biggest Little Town in Arizona."
Fast forward to current times and Cottonwood is still doing pretty well for itself. Gone are most of the lawless folk, and instead the town is home to a vast variety of different types of people, with a particular emphasis on families and retired folk, though there is still a surprising number of young people for such an out-of-the-way locale. In addition to the nearly 12,000 (2010) year-round residents, Cottonwood plays host to an increasing number of tourists and vacationers each year.
One of the main attractions for tourists is Cottonwood's close proximity to interesting attraction spots. A plethora of ancient Indian ruins, a ghost town (Jerome), and historic parks are all within a short drive. Sedona, one of Arizona's most beloved vacation destinations is only a half hour drive away. It's much more pleasant to stay in the less touristy, but just as comfortable Cottonwood and venture to Sedona and the surrounding red rocks of Sedona during the day.
In addition, the area surrounding the town itself is marvelous. Hiking, camping, bicycling, and fishing can all be had without leaving town limits. The aforementioned shops, restaurants, and bars all offer an easy way to enjoy a lazy day in town. The Verde Canyon Railroad is one of the area's most popular tourist attractions. It takes riders down an old railroad line, stopping for great views of scenic spots and roaming wildlife. The Clemenceau Heritage Museum is also hard to beat if you're a lover of local history.
Best of all, perhaps, is that Cottonwood is close to everything that Arizona has to offer. The small towns of Clarkdale, Jerome, Sedona, and Camp Verde are all within 20 miles or less. Flagstaff is about 40 miles away and Phoenix is a little over 125 miles. You can even make a day trip to see the Grand Canyon if it so pleases you.
Once you visit Cottonwood, you're going to have a hard time leaving, and you'll definitely want to come back for seconds in the future. It combines all the pleasures of a relaxing trip with the thrills of outdoor exploration and adventure. It's a great small town to spend a few days of your adventurous Arizona vacation.
Map of Cottonwood and Directions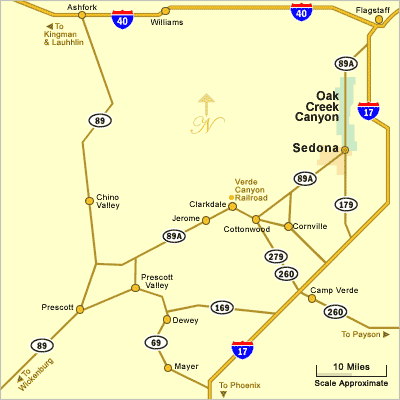 Cottonwood Arizona Map
---
Attractions In The Sedona Area