Slide Rock State Park - Oak Creek Canyon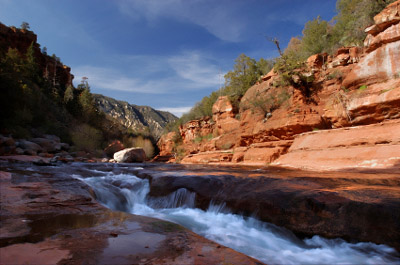 Slide Rock in Sedona AZ
Slide Rock State Park in Sedona is named after "Slide Rock", a favorite swimming spot in Oak Creek Canyon of the Arizona desert-dwellers that escape the heat in the Phoenix area. On any given summer day, it's hard to find a parking space at this stretch of slippery current along Oak Creek. As elevation falls, Slide Rock becomes a natural water chute as swimmers slide down the slick "water slide" for about a third of a mile and repeat the excitement again and again.
If you decide to try it, we recommend wearing old cutoffs. These slippery rocks are just abrasive enough to ruin good swimsuits. And be sure to wear an older pair of sneakers for the short trek back to the starting point. For those less adventurous, Slide Rock is a great place to wade around and absorb a good tan.
Slide Rock State Park was originally (1910) the homestead of Frank L. Pendley who succeeded in establishing a unique irrigation system that harnessed water from Oak Creek to plant apple orchards. Today the park includes several hiking trails that meander among the orchards and historical structures providing spectacular views of the canyon walls of Oak Creek. Do not pick the apples. It's prohibited.
Hiking Slide Rock Route Trail
Slide Rock Route Trail is a 0.3 mile trail with a moderate difficulty rating that serves as the access to Slide Rock. The path begins at an old apple-packing barn and descends to the creek via steps where it then crosses the creek via a small footbridge. During high water periods, visitors should stay on the west side of the creek. Once across the footbridge you'll proceed along some sandstone shelves. You'll come to a historic rock cabin that Pendley used in conjunction with a flume and water-wheel to generate electricity for his homestead.
During the trek, you'll come to an eight-foot wall that is typically a turnaround point. The adventurous can negotiate the wall and hike into more remote areas upstream where hiking becomes a bit more difficult.
Please respect the park rules which includes no pets or glass in the swimming areas. Littering is unlawful and removing rocks and vegetation is prohibited. Pets are permitted on the trails away from swimming areas but must be kept on leashes. Please carry animal waste out of the park. The creek beds are very slippery in spots, so use caution. Leave the park in better condition than you found it. Amenities and conveniences include picnic tables, drinking water, compositing toilets and a snack bar. The Park is open all year.
Fees. There is a $10.00 or $8.00 (depending on season) fee per vehicle. Fees are subject to change without notice. Visit the Slide Rock State Park website to verify current rates.
Directions. Drive about 6 miles North of Sedona up Oak Creek Canyon on Highway 89A. Parking will be on the west side of US 89A.
More Information
Slide Rock State Park
P.O. Box 10358
Sedona, Arizona 86336
928 282-3034
Slide Rock Park Video
Slide Rock State Park Map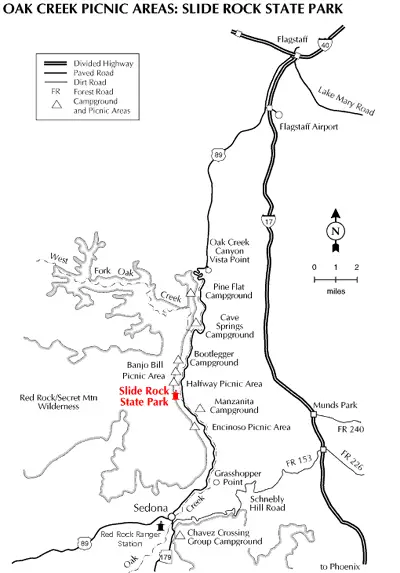 ---
Attractions In The Sedona Area