Camp Verde Arizona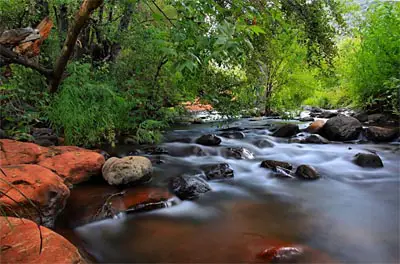 Bell Trail #13 Near Camp Verde. © Valerie Millett
Camp Verde AZ. Whether you crave outdoor adventure or prefer the laidback allure of shopping and dining, Arizona has you covered. Located in the central part of Arizona, Camp Verde is one of the Southwest's few towns that have a little bit of everything packed into a few-mile radius. You don't even have to venture outside of city limits to get a taste for all that Arizona has to offer. Best of all, it's small and tucked away so it doesn't feel like another tourist trap. Camp Verde is truly one of the best places to go if you want to vacation like a local.
Camp Verde is one of the oldest towns in Arizona. Its rich history is reflected, even today, in its architecture and rural Western character. Visiting the town is like taking a step back into the past, when cowboys and frontiersman reigned supreme and jeans and denim shirts were preferred.
Camp Verde AZ actually got its start under a different name, Camp Lincoln. At first, it was little more than a makeshift military fort overlooking a few scattered farms in the surrounding Verde Valley. In 1865 the name of the fort, and the surrounding town, was changed permanently to Camp Verde. The fort continued to be occupied until 1890 when it was shut down forever.
Thankfully, the townspeople realized the historic value of the fort and kept it in good condition. Even today, visitors to the area can tour through the adobe buildings that were once outlying parts of the fort. Today the fort goes by the name of Fort Verde and is run as a State Historic Park. It should definitely be on your list of Camp Verde vacation stops if you have a history buff in your family.
Camp Verde is also home to one of the best-preserved cliff dwellings in the entire world. Nestled into a vast limestone cliff, the dwelling, referred to as Montezuma's Castle, consists of 20 rooms and is considered the ancient equivalent of a modern-day high-rise apartment building. Even if you don't much care for ancient history, a quick visit to the Castle is a must. The structure is an absolutely amazing testament to the ingenuity and perseverance of the ancient people who built it.
But Camp Verde isn't only about history and ancient structures, it also has a flair for the modern. Its downtown area is one of the most fascinating in all of Arizona. Though it is small, it has a number of excellent drinking, dining, and shopping options. It's not hard at all to hit the sidewalks for a fun, and relatively inexpensive, night on town.
If you're looking for a little more adventure than museums or shopping has to offer, don't worry! The area around Camp Verde is chalk full of quirky outdoor activities. Perhaps the most well-liked is just plain, old exploring. Hiking, biking, fishing and horseback riding are easily had and are all great ways to see the natural landscape in a personal and up-close sort of way. Of particular interest are the mountains that surround the town and the Verde River which flows through Camp Verde It's easy to spend multiple fun-filled days hiking along the many trails that meander through and around the area.
Another unique site that most visitors don't miss (and it's hard not to) is the Kokopelli statue in front of the Krazy Kokopelli Trading Post. Kokopelli is the Navajo God of Wealth and Fertility and is popular among Southwest Indian tribes. What makes Camp Verde's Kokopelli statue so interesting is its giant size. It's actually the largest Kokopelli in the world, standing at 32 feet high!
All in all, Camp Verde is one of the best places to visit in Arizona because it has something to offer visitors of all tastes. Better yet, because of its central location, it is only a short drive away from many other towns in Arizona, including Phoenix (90 miles), Flagstaff (42 miles), Sedona (20 miles), and Cottonwood (16 miles). Even if you're not staying in Camp Verde for the entire length of your trip, make sure that you swing by for a day at the very least. You won't be disappointed by one of Arizona's most beautiful cities.
Map and Directions To Camp Verde AZ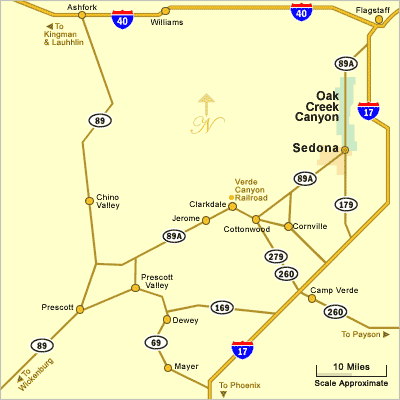 Camp Verde Map
Related Information
---
Attractions In The Sedona Area