Sycamore Canyon Wilderness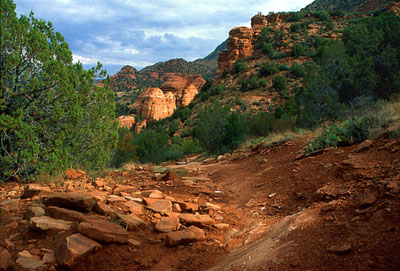 Compliments of RobertBody.com
No paved roads, no campgrounds, no crowds. Just 55,937 acres of natural majestic beauty, fresh air and solitude. Sycamore Canyon is a scenic cousin of its neighbor Oak Creek Canyon. It stretches from its forested rim near Williams Arizona to the Sedona area. The beauty of Sycamore Canyon is startling with its colorful crimson cliffs against lush Cottonwood and Sycamore trees. The canyon is home to a wide array of wildlife including black bear, mountain lions and the bandit-masked ringtail cat.
You'll particularly enjoy the views of secluded water pools and tall forests along the Sycamore Rim Trail on the canyon's upper reaches. Here and in the canyon depths you'll discover a wilderness of tranquility. The canyon wilderness which is about seven miles wide at one point features dozens of hiking trails with amazing views.
Motorized vehicles and mechanized vehicles including mountain bikes are prohibited in the canyon. The area can become hot and dry and there are no facilities. Inexperienced hikers should stay close to the trail head and not venture too deeply into the canyon. Be advised that defacing Indian ruins and removing artifacts is a federal offense. Please carryout any trash to preserve the beauty of this natural masterpiece.
Hiking Parsons Trail at Sycamore Canyon
Parsons Trail is one of the most popular of the Sycamore Canyon hikes. It is a moderate 7.4 mile round trip hike that leads through creek crossings to deeper swimming holes, sandy beaches, and scenic backdrops of giant cliffs.
Directions. Take Highway 89A South from Sedona to Cottonwood AZ. At the junction of Arizona 260 and US 89A, go right and proceed 1.4 miles to Historic 89A. Turn north and drive 3.8 miles to the turnoff to Tuzigoot National Monument. Turn right and proceed 0.4 miles, then turn left on Sycamore Canyon Road and proceed 10 miles to the trail head. Most of Sycamore Canyon Road is unpaved, but it is passable to family sedans except during periods of heavy rain.
Red Rock Ranger District
Sedona, Arizona
928 282-4119
Sycamore Canyon Map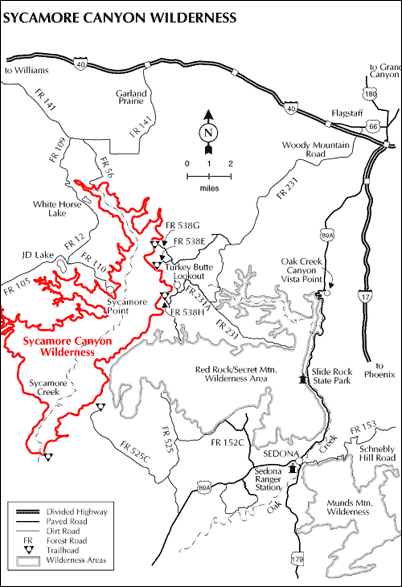 Nearest Lodging
Choose among Sedona Resorts. You might also consider staying at a Bed and Breakfast in Sedona or a Vacation Rental.
---
Attractions In The Sedona Area