What To Do In Sedona Arizona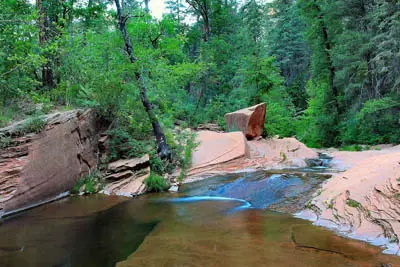 West Fork Trail in Sedona AZ. © Valerie Millett
Known for its mystical vortexes and unique red rock monoliths, Sedona is one of the most beautiful places you will ever see. There is so much to do and see in Sedona that you would have to spend a few weeks in the Verde Valley to experience its unlimited attraction wonders. Whether you're considering a family vacation with the kids, a romantic interlude, a wedding, a family reunion, or a corporate event.....an unforgettable trip to Sedona AZ awaits.
Choose a vacation style that fits your interests and budget. Yes, visiting Sedona can get costly if you stay at a world-class resort and shop at the most expensive boutiques and art galleries or eat at the finest upscale restaurants. However, there are budget and economy alternatives. And there is a world of free things to do in Sedona. In an area that boasts the most diverse landscape in the southwest, there is an endless range of outdoor activities that will not cost a dime while rejuvenating minds, body and soul.
There is no shortage of things to do in Sedona, Arizona. Your biggest problem will be deciding what to do or what to see among the many activity choices. Following are among the best, most popular and top rated of Sedona activities. Also see our list of Sedona Attractions.
Sightseeing and Tours of Sedona
Beauty is free. Some of the famous red rocks of Sedona can be seen right from the road or while even having having lunch on a patio. Many of the more popular monoliths have parking lots for closer views. You can even take easy hikes and get up close and personal. Tour companies in Sedona that will take you deeper into the back country via jeep that will reward with incredible views.
Take a hot air balloon ride. Jump on a biplane. Tour ancient Indian ruins. Enjoy a leisurely afternoon by riding on the Verde Canyon Railroad. Hire a professional guide that will take you on a tour to the secret vortex spots. Tour the Verde Valley vineyards and wineries with wine tastings. The views across Sedona are astounding. They are even more incredible when a professional takes you to the hard-to-get-to places.
Sedona Scenic Drives
The Scenic wonder of Sedona. This is red rock country. Leisurely drives are just one way to enjoy the natural splendor. The most popular drive is up Oak Creek Canyon, a 16-mile jaunt through lush vegetation along the shimmering Oak Creek. Other scenic drives include the Red Rock Scenic Byway along State Route 179, the drive up Schenbly Hill, the Red Rock Sycamore Canyon Loop and the Desert Canyon Loop. Check out this loop drive to the Grand Canyon South Rim from Sedona. The roundtrip is about 220 miles through Flagstaff with incredible views of the San Francisco Peaks along the way. Take the short drive to Jerome, the largest ghost town in Arizona that once was considered the most wicked town in Arizona. Today, Jerome is primarily an arts community of galleries and boutique shops.
Hiking In The Sedona and Oak Creek Area
There are some amazing hikes in the Sedona AZ area each with its own unique character. They are as different as their degrees of difficulty. Steep climbs to high elevations. Treks that hug the banks of Oak Creek along side high canyon walls. Lush vegetation in remote areas of tranquility. Intimate beauty meandering along creeks, swimming holes and soft waterfalls. Of particular popularity are the West Fork Oak Creek Trail and Bell Trail along Beaver Creek. Click here to see the amazing photos of the West Fork Oak Creek Trail by Valerie Millett.
Sedona and Oak Creek Canyon Camping and Fishing
Camping in the Oak Creek Canyon is the most enjoyable in Arizona. Relax in lush vegetation with the convenience of cooking grills and easy parking. Hike and fish along Oak Creek and enjoy the incredible views of red rock cliffs. There are several campgrounds and most do not take reservations. So get there early to claim your camping spot. in cool country where the spring and summer temperatures are ideal. Pitch your tent or take your RV and get in touch with nature. There are nominal camping fees, but the enjoyment is worth the very small price. See our list of Sedona and Oak Creek Canyon campgrounds.
AZ State Parks in and Around Sedona
Perhaps the most popular state park is Slide Rock State Park where Oak Creek Canyon features the famous Slide Rock which is a water-slide chute on the slick boulders of Oak Creek. Swimmers have hours of fun jumping from tall boulders into deep pools of water. Red Rock State Park is a 266 acre nature preserve that features hiking trails, picnic areas and a visitor center with a theater and gift shop. Dead Horse Ranch State Park is a 423 acre park in nearby Cottonwood AZ. The Verde River runs through the park creating a great environment for camping, canoeing, fishing and day picnicking. Note that Arizona State Parks require nominal entrance fees.
Sedona Area Ancient Indian Ruins
When trying to decide what to do in Sedona AZ, if you are a history buff, consider visiting ancient Indian ruins and petroglyph sites in the Sedona and the surrounding area. The best known is Montezuma Castle near Camp Verde. These ancient cliff dwellings were built by the Sinagua Indians in the 1100s. The Palatki Ruins are preserved ruins to the east of Sedona. The V-Bar-V Petroglyph Heritage Site southeast of Sedona does not have Indian ruins but has over 1,000 petroglyphs with ancient inscribed messages. There are many ruins spread throughout Sedona's Secret Wilderness, some requiring long hikes to find. Walnut Canyon just north of Sedona in Flagstaff has some great, well-preserved ancient cliff dwellings.
Other Things To Do, Attractions and Points of Interest
There are so many things to do in Sedona. Places and attractions to see and outdoor adventure activities. For those that love to indulge and get pampered, the destination resort spas will more than satisfy. Northern Arizona attractions are abundant such as the Grand Canyon, Antelope Canyon and massive Lake Powell. There are several golf courses in Sedona for the golfing addicts. And when your day is done, you can cuddle-up to a fireplace or head to one of the many fine restaurants in Sedona AZ. Dine on an outside patio overlooking the points of interest, go to a BBQ cowboy steakhouse or sit by the creek with a glass of wine. Also see our List of Sedona Attractions.
Related Information Sources
---
Things To Do & Experience In Sedona