Wedding Cake Couture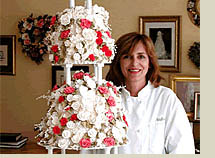 Andrea Blaut is an award-winning cake artist in Sedona, Arizona. She has created wedding cakes for such celebrities as Tom Cruise, Kirstie Alley and John Travolta. Visit Andrea's website for a portfolio album of wedding cake styles and designs.
Ever wonder what leads the way in wedding cake trends? Obviously cake divas like Collette Peters and Sylvia Weinstock, whose outrageous creations adorn the wedding magazines, seem to lead the way in establishing trends. However, a closer look reveals the real couture in wedding cakes - and that is the wedding gown!
Years ago, when tulle was big, cakes were frilly. Skirts were full and big. Enter Vera Wang and suddenly cakes became sleek and smooth. Look at her wedding gowns! Sleek and smooth they are.
Years ago cakes had pillars separating the tiers of cake. Pillars are suddenly "out" and cakes are stacked on top of each other. Although round cakes are still popular, suddenly, square cakes are in. Like packages stacked atop one another and left askew the square offset cakes are very big these days.
Besides the design, today's trend in wedding cakes is the dessert cake - gone are the days of dry white cake - enter cheesecake and flourless chocolate cake with rich ganache and fruit fillings. Cakes like Pound cakes with layers of cheesecake in the middle. And multi-flavored cakes, so each guest has a choice in the flavor they are served.
Another great trend today is a smaller 2-tiered wedding cake atop a crystal cake stand adorning the center of each table at the wedding reception. Each of these cakes is a different flavor - cheesecake, chocolate terrine, lemon custard cake, mousses and ganaches. Yumm! And when cut and served becomes a dessert buffet!
I once did a wedding for a bride who told me she didn't want a wedding cake but just wanted a dessert buffet. We ended up doing both - she had 15 different cakes, all of the same colors and theme, adoring the 15 tables at L'Auberge de Sedona. And when cut and served, she had her wish - a complete dessert buffet. Everyone was thrilled.
Well, we're on the verge of another wedding cake "fashion" trend. The bejeweled look. Today's gowns are beaded, embroidered, damask. Fabrics are rich, antiqued with lace, creams and ivories. Luminescent fabrics are in demand.
And so are cakes. From fondant finished with "luster dust" to add a luster to the cake, to pastillage (sugar paste) flowers in jewel tones - gold, bronze, ruby, today's cakes once again reflect our newest wedding gown designs.
I have designed sugar "lace" to replicate the lace on a wedding gown. I have "sparkled" hot pink sugar roses with edible sparkle. I have draped cakes with edible white chocolate "lace".
Sleek is still in, but today's gown's and cakes have a touch of glam and romance combined. Lace is back in as are pearls and beads. Beautifully adorned sequins embellish today's wedding gowns. Lace is hand made, antique style and very European looking. Flowers are big now - big satin roses on the backs of gowns or adorning trains.
Romantic and nostalgic are the words that best describe today's trends in gowns and of course cakes. In this time of chaos and flux I think we all long for simpler days - the old fashioned romantic European look. And as wedding gowns reflect this, so do the cakes at today's weddings.
Yet on a lighter side - another popular trend is the whimsical cake. The "mad hatter" cake with its intentionally lopsided tiers and bright colors adorned with big funky flowers and beads. An Alice in Wonderland look. Yet tastefully done without garish colors.
The most in demand look in wedding cakes is the smooth fondant look. Fondant has also made a comeback. Once very popular in Europe and Australia, fondant got a bad rap in the United States. Commercially produced fondant was just too sweet and heavy - which gave the brides a dilemma, they loved the look yet hated the taste.
The newest trend in fondant is good tasting white chocolate fondant. This is a necessary product of today's modern pastry chef and is not difficult to make! So we now have the beauty, the smooth and luminescent look of fondant with the wonderful taste of white chocolate.
Here in Sedona, in the high desert, we have beautiful outdoor locations for wedding receptions. But due to the major fluctuations in temperature a wedding cake may be exposed to high temperatures, which can melt a cake! Again, fondant saves the day - much more stable at higher temperatures than butter cream icing, fondant is a must for outdoor weddings. The trend in Sedona is definitely toward fondant cakes!
Years ago, cakes were mostly adorned with fresh flowers. Although still popular today, even more popular are sugar paste flowers - which rival the real thing! Delicate and completely duplicating the real thing, today's sugar paste flowers are real works of art. Although made from sugar, these flowers are truly keepsakes - wrapped in tissue and stored in an airtight box they will last for decades!
If you're baffled about what type of design to choose for a wedding cake, step back and look at your gown!
---
Plan A Wedding In Beautiful Sedona