Airport Mesa in Sedona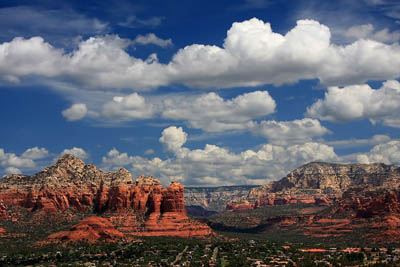 View of Coffee Pot Rock From Airport Mesa. © Mike Koopsen
No trip to Sedona would be complete without a visit to Airport Mesa. While there are no particular rock formations at the Mesa itself, Airport takes off with stunning views of other nearby monuments, including spectacular vistas to the northeast of Coffee Pot Rock and Chimney Rock, and Bell Rock, Courthouse Butte and Cathedral Rock to the south.
Hiking Airport Mesa
The hiking trail around the mesa is one of the easiest to navigate in all of Sedona and visitors experience only a slight 200 foot elevation gain over undemanding 3.5 mile loop. Visitors to Airport Mesa can reach the top of the knoll in just a few minutes and it makes the perfect spot for spending a quiet afternoon or enjoying an early evening picnic. The sunset views from the Mesa are absolutely breathtaking, with vibrant bursts of orange, red and crimson across the sky.
Many visitors to Airport Mesa come to experience the energy vortex believed to exist there. Considered an inflow vortex by spiritual believers, visitors report feeling rejuvenated by the rush of energy being drawn inward. You don't have to belief in the New Age movement to enjoy Airport Mesa, however. Simply appreciate the magnificent views of Sedona's spectacular "Red Rocks" and watch the sunset from this remarkably accessible vantage point.
Directions To Airport Mesa
Take Highway 179 West from Interstate 17. Pass through The Village of Oak Creek to Sedona until you reach the "Y" intersection with Highway 89A. Turn left (west) at the "Y" onto Highway 89A. Look for Airport Road to your left. Drive up Airport Road until you reach the dirt parking lot on your left. An easy trail to the left of the parking lot will take to you to the vortex site.
---
See All Sedona Has To Offer