Sedona Vortex Tours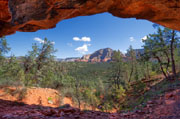 Native American Indians have historically considered the Sedona area as a sacred place where metaphysical energy emanates from the inner earth. Sedona Arizona's towering red rocks stimulate sensitivity permitting people to realize true dreams and ambitions. Points of inner earth energy emanations disperse across the Sedona area but are strongest at particular locations. Each of these points are referred to as a Sedona Vortex.
The best-known Sedona vortex sites are Bell Rock, Cathedral Rock (Red Rock Crossing), Boynton Canyon and Airport Mesa. But the many Sedona vortex tour guides know the strongest points of energy in more remote locations where you will learn to connect yourself in a heart-centered way to the spiritual energy. The vortex tour guides will take you to these special places.
Votex Tours & Spiritual Retreats
---
SpiritQuest - Best Retreat In Sedona
Sedona AZ, 86336
888 400-1819
Amazing spiritual journeys of the heart... in one of the world's most powerful places! SpiritQuest is Sedona's premier provider of holistic wellness retreats. Offering personalized experiences for the mind, body and soul by combining things like yoga and meditation with spa quality massage treatments and one-on-one time spent on the land with Sedona's best spiritual guides and teachers. You'll learn valuable stress management techniques, let go of limiting beliefs that have kept you trapped, and receive the spiritual life coaching you need to turn your dreams into reality. Call today and change your life.
---
Sedona Healing Journeys
426 Kindra Hieghts Rd
Cottonwood AZ, 86326
928 634-3497
It is my choice to take you where few visit or even know about, places not overwhelmed with the buzz of tourism, so you may feel at home with the ancient spirits and the ancient earth. I have been working as a soul and tour guide for 20 years in this sacred valley. I hope that I may serve you in some way, whether through a soul journey session or gathering spirit medicine on the land, a retreat, a song, a chant, a drum beat, a soulful hiking tour,a myth, a story, a teaching, the voice of the flute so your soul may journey to its truest home.
---
Sedona Mystical Tours
Sedona Sacred Tours
Sedona AZ,
928 203-1025
Our company offers an outdoor experience that in many ways, honors the traditional use of the Sedona area. In the present time this would be called a connection of mind-body-spirit with the land. Our tours are designed to promote this, showing individuals how to access the intangible qualities many are discovering for themselves. Without a doubt, you will have exposure to the beauty of the red rock formations but, more importantly, we bring that beauty to within through the promotion of a sensory experience on this still sacred land.
---
Retreat and Heal
A Safe Place T Heal
Sedona AZ,
928 282-5237
Not just a vortex tour, we offer a spiritual journey! Two and half hour tour on the land designed to give you an experience of the vortex energies. Our special tour empowers you to experience the vortex sites and allows time to meditate. We facilitate you to feel the healing energy of the Sedona vortex sites. Make the most of your Sedona visit, let us be your spiritual guides, our small personalized tours are just what you are looking for. We create a sacred space to experience the vortex energies, and assist you to release your stress and deepen your spiritual connection.
---
Inner Journeys
Sedona Spiritual Tours
Sedona AZ,
928 282-1706
If you are planning a vacation, spiritual retreat or girl's getaway to Sedona, AZ, allow us to be your guides and assist you on a spiritual sojourn toward empowerment and Self-discovery. The stunning red rocks of Sedona, Arizona and its vortexes provide the perfect setting and healing energy from which visitors can begin the spiritual journey within. For some, that inner journey may bring rejuvenation and/or peace, while for others it may hold yet deeper experiences.
---
Sedona is known for its mystical vortexes. Just about any place in Sedona emanates vortex energy, but certain places emanate even more energy. The above tour operators and vortex guides will take you to those power spots which includes all of the major red rocks of Sedona. See other tour guides that specialize in other types of tours in Sedona.
---
Attractions In The Sedona Area