Desert Canyon Loop Scenic Drive
This scenic loop begins east of Interstate 17 where State Route 179 from Sedona crosses I17 to become FR618 just north of Camp Verde, Arizona. This scenic drive is a uniquely different natural landscape view versus the red rock canyons in and around Sedona. The map below defines the directions of the loop which takes you very near Montezuma Castle and Montezuma Well, the ancient habitat of the Sinaqua Indians and its cliff dwellings.
The route could take about 3.5 hours or all day depending on whether or not you deviate along other scenic and historical points. There are campgrounds and a picnic area at Wet Beaver Crossing and along West Clear Creek near the route's end. A very primitive road leads to an undeveloped campground at the mouth of ancient Indian ruins, backcountry ranches, swimming, hiking, fishing, mountain biking and wildlife watching.
Note that Forest Road 618 is graveled and suitable for passenger vehicles but can become slippery and soft when wet. For more information contact the Red Rock Ranger District in Sedona, Arizona at 928 282-4119
Desert Canyon Loop Map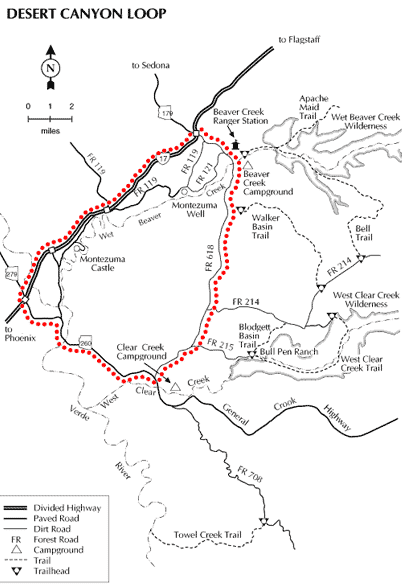 ---
Attractions In The Sedona Area