Sedona Red Rock State Park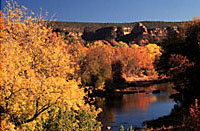 Hiking, Picnicking & Even Weddings
A 286-acre ecosystem family-oriented park in the lush red rock beauty of Sedona and Oak Creek. The park is owned and administered by the Arizona State Parks Board as a riparian habitat and center for environmental education. Here, visitors can enjoy a 5-mile network of interconnected hiking trails that meander through red rock mountain views and the lush, treed greenery of Oak Creek. Stop by the visitor center for detailed information and trail locations. The hiking trails are family-friendly and bikes and horses are permitted only on designated routes.
Self-Guided Interpretive Trails
Narrative explanation guides are available at the visitor center (returnable deposit) for two self-guided trails with numbered points explaining the environmental aspects along the trails. The Smoke Trail guide takes you along Oak Creek for about one-half mile. The Ethno-botany guide explains the traditional uses of plants found along the Kisva Trail. Rand and volunteer guides are scheduled at set times throughout the week.
School Field Trips
The Park's "Connection Program" schedules environmental education programs for K-12 th grade. Group size limits are imposed. Reservations should be made early in the school year and registration must be made at least one month prior to the date of your visit. Call 928 282-6907.
Interpretive Programs, Guided Hikes
DailyGuided Nature Walks –10:00 a.m. –1 1/2 hrs.
Special Program- (Daily 2:00 p.m.) 45 minutes
Birds Walk – (Wed. & Sat.) Call for times
Eagles Nest Guided Hike – (3 mi/3 hr) Call for times
First Sunday Program – Once a month – (2:00 p.m.) This program includes presentations by noted speakers and experts in the field.
House of Apache Fire – Call for times
Moonlight Hikes – (April-Oct.) Call for times
Group Use Facilities & Amenities
Picnic areas include the Twin Cypress Picnic Ramada and the Cottonwood Picnic Area. Event use areas include the rooftop of the Visitors Center, the Noteman Seating Area and the Sentinel Seating Area. Reservations may be made six months in advance and wedding event reservations can be made twelve months ahead. The Wedding Tree is available. Rates are very affordable ranging from $20 to $50 for each facility. Rates subject to change.
Group sizes are as follows: Ramada: 75 with existing tables and up to 250 with additional tables and chairs. User must provide portable tents. Visitor Center Rooftop: 50 people. Wedding Tree: 250 people.
Water, electric, tables and grills are provided with the Ramada. Chairs and tables are provided in the Visitor Center Rooms. Request a "wedding information packet".
Exhibits and Programs
Herbarium and Natural History Guides can be reviewed with prior arrangements for visitors to learn about native plants and wildlife at the Park. Hands-on educational exhibits are housed at the Park Visitor Center. Videos and slide programs on various topics ranging from archaeology to zoology are presented upon request at the Visitor Center's Red Rock Theatre.
Red Rock State Park Guidelines
Visitors must remove all trash brought into the park. No pets permitted. Swimming, wading, rock climbing, firearms, BB guns, bows or fireworks are prohibited. Charcoal fires are permitted in the grills only.
Address and Contact Points
Red Rock State Park Visitor Center Hours
4050 Red Rock Loop Road 9 a.m. – 5 p.m. (Sep-Apr)
Sedona, Arizona 86336 9 a.m. – 6 p.m. (May-Aug.)
928 282-6907
Park Hours
Summer: 8 a.m. – 8 p.m. (May-Aug.); 8 a.m. – 6 p.m. (September)
Winter: 8 a.m. – 5 p.m. (Oct.-Mar); 8 a.m. – 6 p.m. (Apr)
Visitor entrance fees apply.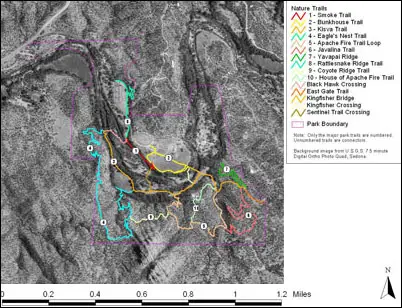 ---
Things To Do & Experience In Sedona