Indian Ruins Tours of Sedona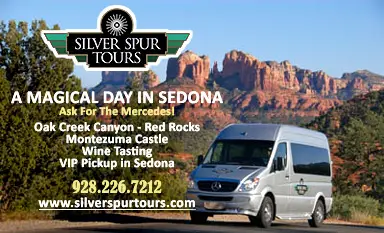 Indian Ruins Tours Sedona AZ.
---
Earth Wisdom Tours
Uptown Sedona
Sedona AZ,
928 282-4714
Tours are conducted in the Coconino National Forest, on private lands, on private and national forests roads and in association with the Yavapai-Apache Nation. Enjoy an EASY RIDER RIM Tour combined with a one hour easy walk to view ancient pueblo cliff dwellings of the Verde Valley at Montezuma's Well. We are located in the heart of Uptown Sedona, right in the middle of great shopping and scrumptious restaurants. The views are breathtaking, our service, warm and friendly. So come ride with us and experience Sedona and Red Rock Country in this once in a life time moment.
---
Blue Feather Tours
Sedona Area Tours
Sedona AZ,
928 203-1123
Blue Feather specializes in personal Northern Arizona and Sedona tours. Located in Sedona, we offer Vortex, Indian Ruin, Petroglyph and Extreme home and Metaphysical tours. We also offer spiritual retreats, and referrals for individual practitioners. We have a new service to connect you with the best of Sedona's psychics. We have begun excavating an archeological site that appears to be a large pueblo. Visitors, if you wish, can use our tools to gently reveal ancient artifacts. You can't keep the artifacts but your discoveries will be documented and we place your picture on our web site.
---
See our list of the most visited Indian ruins in Sedona. If you are interested in other types of Sedona tours, see our list of Tour Companies in Sedona that feature other specialized tours.
---
Things To Do & Experience In Sedona