Tiger Splash. Fun For The Family.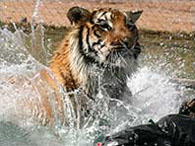 Less than a 30-minute drive south of Sedona near Camp Verde is the "Out of Africa Wildlife Park". Each Wednesday through Sunday you'll "oooh and aaah" while Bengal and Siberian tigers and other big cats interact in a predator/prey relationship of romping and splashing in a 35-foot by 50-foot pool as they play with their caretakers and various colorful toys. This unique, thrilling, and exciting show is also very educational. Through the live narration, you'll discover how instincts, intellect and feelings interact to form spontaneous, natural behavior.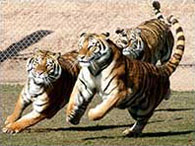 It's an exhilarating show. Called "Tiger Splash," it is especially popular for families with children that visit the Sedona AZ area. Unlike household felines, tigers are water cats, explains Dean Harrison, co-owner of Out of Africa Wildlife Park. And, like all warm-blooded animals, they love to play. "We allow them to be completely natural; we let them be who they are," he says. "Anything can happen, and it does."
The tigers are large 400 to 500-pound cats, with all their teeth and claws. Their play is based on their chase instincts. "It's very much like hunting but no one has to die," notes Harrison. There are very few accidents during Tiger Splash because the animals have a friendly, close relationship with their caregivers. "This causes the tigers not to want to hurt them. It's a choice they make," says Harrison. To encourage an amicable attitude, the handlers give control of the show to the felines and take their cues
As the tigers and caregivers play, Harrison educates the audience, explaining how tigers not only have instinct but also feelings and intellect. Indeed, everyone can see how smart the tigers are; they don't give up a toy unless they are "paid" for it by meat or another toy they like more. According to Harrison, playing with tigers requires a spiritual oneness with the animals: "You must become the tiger." This means there can be no fear when a handler steps into the fenced-in enclosure; "it's simply bipeds playing with quadrupeds."
When Tiger Splash is over, the youngest members of the audience often run around and reenact what they've just seen. "Look at me. Look at me. I'm a tiger," one little boy said. Harrison smiles at the familiar sight. "These kids will carry this experience and feeling with them for their entire lives because it has penetrated their being, and that has meaning," he says.
Tiger Splash takes place every Wednesday through Sunday from 1:15 to 1:45 p.m. The show is included in the price of admission to Out of Africa. The park includes many other wildlife experiences--from a simulated African photo safari with up-close wildlife encounters to a giant snake show and a predator feed.
Directions To The Park
Take 89A 12 miles south through West Sedona toward Cottonwood. Turn left (east) on Highway 260 in Cottonwood. Travel 10 miles to Verde Valley Justice Center Road. Follow signs to the Park entrance.
Map To Out of Africa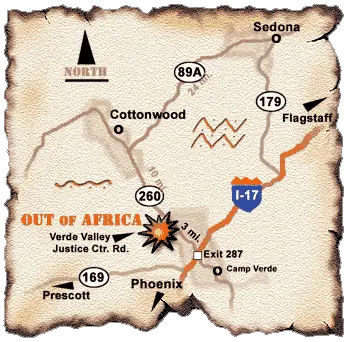 Map Compliments of Out of Africa
Out of Africa Wildlife Park
3505 West Highway 260
Camp Verde, Arizona 86322
---
Things To Do & Experience In Sedona