Taking in Tlaquepaque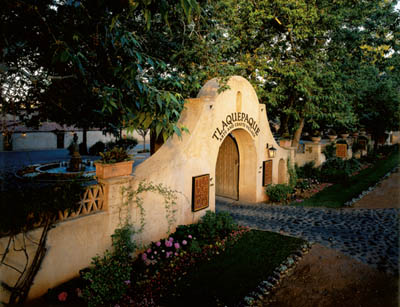 Tlaquepaque Arts and Crafts Village is nothing less than the kind of perfection that only happens in dreams. The visions of creator Abe Miller were brought to life by many hands free to instill their own spirit into the roughshod stucco walls and cobble-stoned streets, with little more than a sketch on a napkin to guide them. The quaint streets, canopied by antiquated stands of Sycamore trees, are lined with shop after shop of Arizona's finest artwork. The alchemy of Tlaquepaque evokes a powerful sense of coming home, and an insatiable desire to linger forever inside its ivy-adorned walls.
Drawing from his love of Mexico and calling to collect and create objects of beauty that stand up against the natural splendor of the red-painted Sedona countryside, Miller sought to recreate the sheer joy and creative magnetism of Mexican communities, which focused on their art and devotion to all things family. Named after a city outside of Guadalajara, Tlaquepaque means "best of every" in an ancient Aztec language. In keeping with the name, this exquisitely rendered masterpiece of a village offers nothing but the best of everything.
At the bridge crossing Oak Creek, on land once home to a nursery, Tlaquepaque now stands as Sedona's premier arts and crafts village. Artists from all studies inhabit the various studios, and galleries that line the close-knit streets. To step through the arched entry is to be carried to another lifetime, where the turmoil and stress of today have never existed. Sitting on the plaza affords one the ability to soak in the echoes of the laughter, dancing and singing that architect Bob McIntyre alluded to when discussing the symmetry of this village he helped create.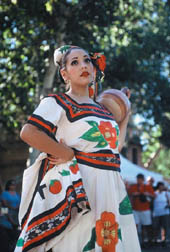 It is perhaps these very echoes that infuse the Sedona air with a sense of romance that draws many a couple inside the walls of Tlaquepaque to be married. The chemistry of the Spanish architecture combined with the vibrant tapestry of an infinite parade of colorful flowers, and spirit of creativity and life promise an event that will not soon be forgotten.
Art aficionados and novices alike will find something that sparks that inner artistic bent. Even without shopping, a walk inside El Rincon Restaurante Mexicano can demonstrate how the forces of creativity flow. The Chapel calls forth a sense of reflection and peace inside the whitewashed walls, when viewing the exquisite, gold-leaf framed mural created by artist Eileen Conn. After soaking in the views outside, wander into one of over 40 shops within the village and experience art through the eyes of the makers who create it, some with works in progress right inside the doors. From glasswork to painting to sculpture, there is something to stir every soul. Whether just visiting or a resident of Sedona AZ, one cannot help but to be drawn towards the stunning beauty that waits just inside the Tlaquepaque gate.
Tlaquepaque Arts & Crafts Village
336 Highway 179 · Sedona Arizona
Shops Open Daily 10a.m. - 5p.m.
The Restaurant Hours Vary
Tlaquepaque is Closed Christmas and Thanksgiving Day
Native American Flute Music at Tlaquepaque
Vibhas Kendzia plays Native American Flutes and East Indian Bamboo Flutes at "Rene" in Tlaquepaque, Sedona Arizona. This video's music is from Vibhas CD "Longing": ... With its rich variety of native flutes played over smooth Latin rhythms, creates a happy peaceful feeling. Great for yoga and easy listening, it is relaxing, soothing and uplifting for the spirit.
---
Things To Do & Experience In Sedona