Courthouse Butte (Rock)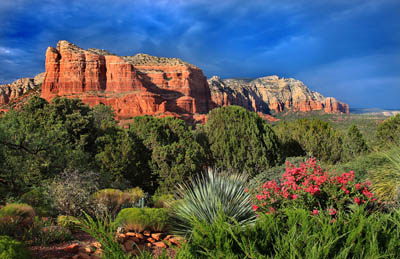 Courthouse Rock. © Mike Koopsen
Located off the main trailhead that serves the better known Bell Rock, Courthouse Butte is a Sedona Red Rock destination in itself. According to local legend, nearby Cathedral Rock was supposed to be called Courthouse Butte, and Courthouse Butte was supposed to be called Church Rock, because of its close proximity to Bell Rock and its church bell symmetry. However a mapmaker in the 1800's mislabeled the formations and the names became part of history. However this fabulous rock formation got its name, it is one Sedona landscape point of interest you won't want to miss.
Hiking Courthouse Rock
The hike to Courthouse Butte begins at the Bell Rock Trailhead, located about 6.5 miles south of Sedona. The trailhead is at the north end of the parking lot, and by heading north on Bell Rock Pathway, you quickly reach a right side trail marked Big Park Loop. It is just a short distance before you join Courthouse Loop in from the left. Continue on this path and you will circle the massive Courthouse Butte, nestled against a backdrop of deciduous trees, a sprinkling of pinons and the delicate blooms of agaves and wildflowers.
As you approach the Butte it appears flat and round, almost like a judge's gavel. However as you move around to the southeast, the Butte is stepped, with a sheer wall that defies climbing. Continuing north and west along the Loop Trail, you will be able to view both Courthouse Butte and Bell Rock in the same panorama, with the partially hidden but equally as unique Spaceship Rock on your right.
The full Courthouse Loop Trail is 5 miles long and there is no water source along the trail so be sure to bring enough for the day. The good news is the terrain is relatively flat and it is not uncommon to see families pushing strollers, particularly on the Bell Rock Pathway portion. The segment of the trail that circles Courthouse Butte is decidedly single track, however and lends itself to quiet reflection in the shadow of the great monuments as you make your way single file along the trail. Courthouse Loop Trail is considered a moderate hike. Horses are prohibited and bicycles are not permitted in the wilderness area.
Courthouse Butte Loop Hike Video
Directions To Courthouse Rock
Courthouse Butte is located south of Sedona AZ on Highway 179. From the "Y" at Highway 89A and Highway 179, take 179 south approximately 6.4 miles. You will see the parking lot on the left just before you reach Bell Rock Boulevard. The trailhead is located at the north end of the parking lot.
More Information
Red Rock Ranger District
P.O. Box 20429
Sedona AZ 86341
928 282-4119
Red Rocks of Sedona & Urban Hiking Trails
| Airport Mesa | Bell Rock | Cathedral Rock | Chapel of the Holy Cross | Coffee Pot Rock | Courthouse Rock |
---
See All Sedona Has To Offer