Best Time To Visit Sedona
Over 4 million people flock to Sedona every year enticed by its four-season pleasant weather and the numerous attractions in the Sedona AZ area. The following will help you plan your visit around the things you prefer to do during your vacation. When you go to Sedona depends upon levels of crowds, affordability of lodging in Sedona, seasonal climate conditions and which of the outdoor activities you prefer.
Most Active Seasons
The most crowded months in Sedona are March through June and then September through November when temperatures are most ideal. July and August high temperatures linger in the 90s, but sometimes can reach 100 degrees Fahrenheit but lows drop to the high 50s and mid 60s which makes for pleasant evenings.
The desert-dwellers from the Phoenix and Scottsdale area often head to Oak Creek Canyon campgrounds during the summer to enjoy camping, swimming, fishing and sliding down Slide Rock. Oak Creek Canyon sets at a slightly higher elevation than does Sedona which means slightly lower temperatures.
Sedona Weather and Climate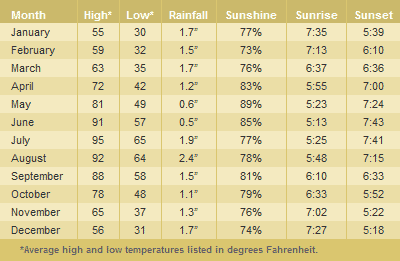 When Bargain Lodging Prices Kick-In
Lodging prices are generally the highest during march through June and then September through November when autumn brings fall colors which is great time for hiking. It is wise to make advance reservations during these peak times. Hotels, motels, resorts and bed and breakfast rates typically dip in during July and August. The best Sedona lodging deals occur from about the middle of December through February when temperatures are at the lowest points.
---
See All Sedona Has To Offer