Oak Creek Terrace Resort
Overlooking Oak Creek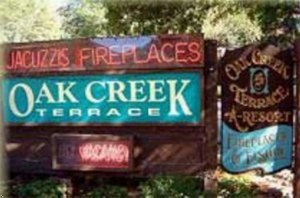 Oak Creek Terrace Resort, overlooking Oak Creek, is just minutes from the heart of Sedona and the glorious scenery of Red Rock Country. The quaint, comfortable facilities put you within easy access to all that northern Arizona's natural environs have to offer, and keeps you close to the all the action in Sedona, Arizona.
If you yearn for activity and adventure, a visit to Oak Creek Terrace Resort puts you on the front doorstep of the Coconino National Forest. Adventure and movement are always close at hand, from trout fishing on Oak Creek and hiking through the lush trails of Oak Creek Canyon, to whisking down the rocks at Slide Rock and exploring the Native American history of Sedona. Guests receive a free Red Rock pass, which allows access to the majority of the natural attractions within the National Forest area.
Perfect for a romantic getaway, comfortably appointed rooms at Oak Creek Terrace Resort can include fireplaces and Jacuzzis. The resort offers great value for families traveling on a budget; larger quarters offer living rooms, kitchenettes, and barbecue areas, as well as private decks for viewing the amazing scenery of Oak Creek. Oak Creek Terrace is nestled between the beautiful Red Rocks and tree covered canyon walls, and is located right on Oak Creek. Our grounds are lavishly planted with trees and shrubs. For your enjoyment, we have barbecue picnic areas. Bring your fishing poles, the creek is well stocked with trout.
Shopping, dining and cultural experiences are just moments from Oak Creek Terrace Resort, in the heart of Sedona. You will have the freedom to map out your own incredible journey in the heart of Red Rock Country.
Oak Creek Terrace Resort
Oak Creek Canyon, Arizona
4548 North Highway 89A
Sedona, Arizona 86336
---
Relax At Sedona Area Resorts