Sedona Wedding Planners & Consultants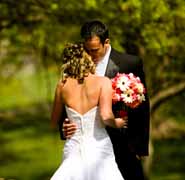 Sedona is a magical place and the ideal location for a most romantic wedding. Whether you are planning a small, intimate wedding or a large grand celebration with family and friends, these wedding planners and consultants will help you plan the wedding of your dreams. They will interact and handle every detail while you relax and enjoy your special day.
Sedona AZ Wedding Planners
---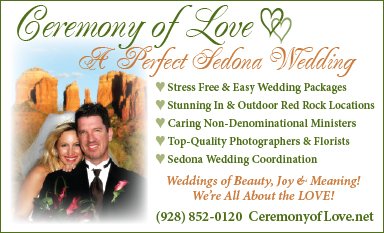 Ceremony of Love
PO Box 3466
Sedona AZ, 86340
928 852-0120
The moment you call & hear "Ceremony of Love", to repeating "I do" we assist you with an enjoyable fun stress-free celebration. With over 15 years of experience, Wedding Designer & Minister, Janice Midkiff gives you her personal care to make your wedding special & unique. The more you make your wedding day your own, the better it works for you. Intimate/Elopement Packages & Full/Hourly Wedding Coordination. We're All About the Love. Rev. Janice
---
Sacred Unions
P. O. Box 1104
Sedona AZ, 86339-1104
928 203-7888
Voted 'The Best' in Sedona and Verde Valley! Your magical and unforgettable wedding phone call away. With 20+ years in 'the biz,' Laura Lane turns your dreams into a celebration of love. Just as no two couples are the same, no two weddings are the same at Sacred Unions. Laura creates weddings which translate your individual personalities, styles and vision into a one-of-a-kind wedding. Services include Hourly Wedding Consulting, Wedding Coordination, Officiating and Elopement/Intimate Wedding Packages.
---
Sedona Weddings
P.O. Box 20264
Sedona AZ, 86341
800 551-0448
For over 25 years we have been helping couples to express their love and commitment in the Red Rocks of Sedona. The release of two white doves is a majestic affirmation of your love, and the blessings of God on your marriage. We can help you arrange every detail, and use only people that are fun to be with and that will do the best job for you!
---
Plan A Wedding In Beautiful Sedona