Blazin' M Ranch
After a long day in the saddle, under the blazing hot Arizona desert sun, nothing beats sidling up next to the chuck wagon for some warm food and good company. Cowpokes and visitors alike have been enjoying their desert evenings like this for centuries, and at the Blazin' M Ranch, located in historic Cottonwood, you too can dine and reminisce like cowboys of days gone by.
Nestled gently against the Verde River in the heart of northern Arizona's red rock country, the Blazin' M Ranch is one part dinner theatre, one part theme park, and 100% down-home, knee slapping, wild west fun! Guests enter through gates into a large courtyard that resembles a historic western Main Street, complete with shooting gallery and saloon. Visitors can pitch horseshoes, take a shot at roping the mechanical horse, pop into the Olde Tyme photo shop and take a picture in Wild West and Victorian costumes, or simply meander the wooden sidewalk on their way to visit the friendly farm animals while waiting for the dinner show.
When the dinner bell rings promptly at 6:30 p.m., guests take their seats in the climate controlled barn for genuine chuck wagon cuisine, served on tin plates by real cowpokes. It's an all-you-can-eat feast so be prepared and bring your appetite! After you've "stuffed your gullet", sit back and watch the show. The world famous Blazin' M Cowboys provide an hour long western stage production, including songs, storytelling, a few jokes and more than a few surprises.
Located just 90 minutes from Phoenix and a short 20 minute drive from either Sedona or Jerome, the Blazin' M Ranch is convenient for both visitors and locals. The gates open at 5:00 p.m., giving you plenty of time to browse the souvenir shops and specialty gift stores lining Main Street. For a truly rip roaring western adventure, why not combine your Blazin' M Ranch dinner with a ride along the Verde Canyon Railroad. The train pulls into the depot at 5:00 p.m. where guests can mosey on over to the Ranch just in time for a little horseshoes before dinner.
Directions to the Blazin' M Ranch
From Sedona head southwest toward Cottonwood on Highway 89A to Cornville Road/Mingus Avenue. Turn right on Mingus Avenue and travel 1.8 miles to North Main Street. Turn right and pass through Old Town Cottonwood, to the turnoff for Dead Horse Ranch State Park at 10th Street. Travel north 1 mile to the Ranch entrance.
More Information
Map of Blazin' M Ranch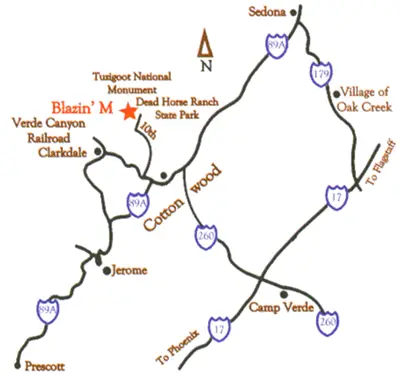 Compliments of Blazin' M Ranch
---
Great Dining, Pubs & Restaurants