A.B. Young Hiking Trail #100
The trailhead starts at the southernmost end of the Bootlegger Picnic Area. Take the steps down to Oak Creek, find a suitable place to "boulder hop" or wade the stream, cross the creek and find an old metal sign that marks the beginning of the trailhead. The hiking trail was believed to have been during the 1880s.
Prepare for an immediate, moderately steep ascent that will climb 1600 feet covering 1.6 miles. The lush shade of the creek is soon lost as you begin to see great views of the canyon and unique redrock formations. You will cross over the 33 switchbacks to the top rim of Oak Creek Canyon. At this point, the A.B. Young Trail enters the shade of Ponderosa Pines before heading west on another gradual ascent ending at the East Pocket Fire Lookout Tower.
About The Hike
Rating. Very strenuous
Uses. Steep heavy hiking
Total Length. 2.4 miles one way
Hiking Duration. Plan for 3-4 hours, one way.
Recommendations. Not horse-friendly.
Physical Condition. Requires good health & experience
Restrictions. Bicycles not permitted
Trail Location
10 miles north of Sedona in scenic Oak Creek Canyon. 20 miles south of Flagstaff AZ on Highway 89A.
Latitude: 34.969612
Longitude: -111.750824
Elevation: 5200 feet at the trailhead. 1600 feet elevation climb.
Directions To The Trailhead
Drive up Oak Creek Canyon (Highway 89A) to Milepost 383.3 across from Bootlegger Campground. Once you cross the creek, a short climb brings you to an old road above the creek. The sign beginning the trail will be found about 300 feet downstream after crossing.
Map Directions To A.B. Young Trail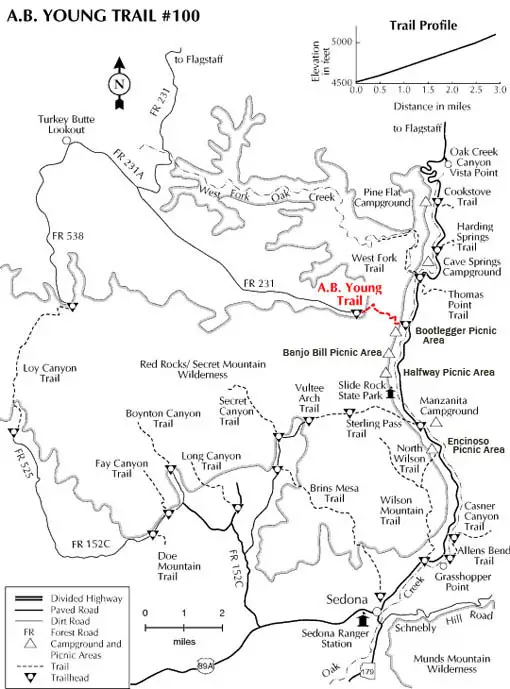 Map of the A.B. Young Trail in Sedona
Related Information and Other Sources
---
Enjoy Hiking In The Sedona Area